Laura Ingalls Wilder chronicles pioneer life for multiple generations
(Read article summary)
Laura Ingalls Wilder's 'Little House' series tells the story of her family and their struggles to survive in the American West.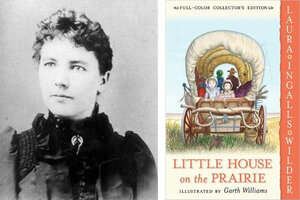 "A long time ago, when all the grandfathers and grandmothers of today were little boys and little girls or very small babies, or perhaps not even born, Pa and Ma and Mary and Laura and Baby Carrie left their little house in the Big Woods of Wisconsin."
So begins Laura Ingalls Wilder's book "Little House on the Prairie," the second in her series about pioneer living and arguably the most famous of the collection.
By this point, 146 years after Wilder was born, the grandfathers and grandmothers she was envisioning are probably the great- or great-great forebears of those living today. But schoolchildren are still picking up Wilder's stories about surviving on the frontier, reading her stories about taking part in activities from preserving meat to going to a community dance and even to battling malaria.
"You feel such a strong identification with Laura," writer and Wilder expert Wendy McClure told The Atlantic. "There's something about the narrative. You feel like you're right there with her, or even that you're seeing it through her eyes…. I love the idea that the history of the American West is kind of paralleled with the lifespan of an American girl."
---