Pope resigning: Historian Jon M. Sweeney shares the story behind the last pope who quit
(Read article summary)
With the news that Pope Benedict XVI is resigning, historian Sweeney discusses why popes rarely leave office and the bond between Benedict and Celestine V, the last pope to resign.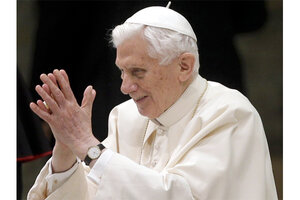 Alessandra Tarantino/AP
It's been more than seven centuries since 1294 got this much attention.
That's the year a hermit named Peter of Morrone became Pope Celestine V, served for a few months, and quit of his own accord. If you don't count the year 1415, when the leadership of the Catholic church went absolutely haywire, not a single pontiff followed his example until this week, when Pope Benedict XVI announced he will resign.
Celestine V didn't go gently into the history books. While he would become a saint, he has a reputation as being a failure. And legend says the author Dante put him in hell because his resignation paved the way for a pope that Dante couldn't stand.
How come popes almost never quit? Can they be fired? And why does the current pope seem to have an emotional connection with the last pontiff who resigned?
For answers, I turned to Jon M. Sweeney, a historian and publisher of Christian books. He tells Celestine V's story in his 2012 book, "The Pope Who Quit: A True Medieval Tale of Mystery, Death, and Salvation."

Q: So last year you wrote a book about the only pope to voluntarily resign. Now your book is getting tons of attention because a pope is quitting. Wow and double wow. What sort of dirt do you have on Pope Benedict to make him quit just so you could reap the reward of publicity?

A: I'm sure he read my book and got the idea to resign!

Q: I'll bet. Seriously, you write that Benedict seems to have a deep personal connection to his predecessor who declared, in effect, I'm-outta-here. How do we know that?

A: In April 2009, there was one of those earthquakes that happens all the time in central Italy. It happened to be centered in Aquila, home to the basilica that holds the remains of Celestine V.
Pope Benedict made a pastoral visit to the people of the province and visited the basilica. When he was there, he took the pallium, the scarf-type vestment that represents his episcopal authority, off his shoulders. He laid it on the tomb, left it there and didn't explain what the gesture meant.
---