Russian meteorite: Not the first strange event in the skies of Siberia
(Read article summary)
Science writer Surendra Verma looks back at the 'Tunguska event,' a mysterious occurrence in Siberia in 1908 which, like the 2013 meteorite, caused injuries and damage when the sky exploded.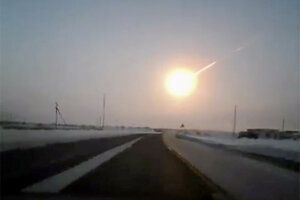 Nasha gazeta/www.ng.kz/AP
Last Friday brought quite the sky show to the Ural Mountains when the apparent explosion of a meteorite spawned tremendous sonic booms, bright flashes of light and hundreds of injuries. But this wasn't the first time chaos rained down from above in the huge chunk of North Asia known as Siberia.
Back on June 30, 1908, something in the sky above Siberia exploded, stunning people who lived dozens of miles away and leaving a scar across the landscape that exists to this day.
Surendra Verma, a science journalist and author based in Melbourne, Australia, wrote about the so-called "Tunguska event" in his 2005 book "The Tunguska Fireball: Solving One of the Great Mysteries of the 20th Century."
In an interview, Verma told me about the theories regarding the Siberian explosion of 1908 (including a wacky one featuring a volcanic eruption and extraterrestrials), his thoughts on what actually happened (sorry, no aliens involved) and the reason why this all matters to us today.

Q: What exactly happened on that day in 1908 in Siberia?

A: An explosion flattened a Siberian forest bigger than metropolitan New York, stripping tens of millions of ancient trees of leaves and branches, leaving them bare like poles and scattering them like matchsticks. A dark mushroom cloud of dust rose to a height of 50 miles over the area, and a black rain of debris and dirt followed.
The explosion lasted only a few seconds, but it was so powerful that it could be compared only with an atomic bomb – 1,000 Hiroshima atomic bombs.
---