Nashville turns Poetry in Motion program into contest for local poets
(Read article summary)
Previous years saw cities draping buses and subway cars with text from poems by famous writers. Now the Music City is asking a panel to choose works by local writers for display.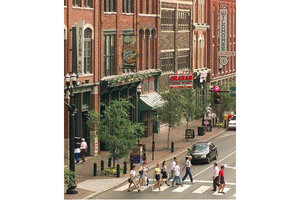 Mark Humphrey/AP
Each year, the Poetry in Motion initiative puts poems (or excerpts of poems) in place of ads on public transport buses and subway cars in the cities which are participating.
Through the program, which was established in New York in 1992, the Poetry Society of America normally chooses the words of established or emerging poets to grace the walls of a given city's public transport. From Fresno to Boston and a few places in between, the selected poems have appeared in nearly 30 cities in the past 20 years.
"They are a delight," Susie Estrada told the Poetry Society of America of the displays, according to their website. "I smile every time I find a new one... Please continue to place these signs of humanity in among the monotony of the bus and other transportation."
This year, however, will be a little different in Tennessee. Submissions from the public for the Poetry in Motion initiative are not usually accepted, but this year, Nashville has introduced a contest to select the poems of local poets for their celebration. Instead of the Poetry Society selecting what they want from previously published works, a panel of local authors and poetry enthusiasts will judge and select submissions from area residents. The submissions must be original works, and the author must have all rights to them. The contest is only open to residents of Davidson County, where Nashville is located.
---