Choosing the Pope: Looking back at the process through the ages
(Read article summary)
History professor Frederic J. Baumgartner discusses how the leader of the world's largest Christian faith has been chosen in the past and what that means for the current selection.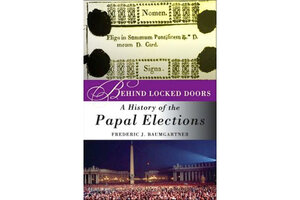 This week, Catholic cardinals are gathering in the world's smallest country to set about the task of making the biggest news on earth. Their job: choose the leader of the world's largest Christian faith. Under the soaring work of Michelangelo in the Sistine Chapel, they will consider the future of a troubled church at a conclave expected to begin within days.
We don't know exactly what happens in these secretive meetings, if there's yelling or note-passing, moments of laughter, or hours of tedium. But it is clear that certain things are verboten, at least if they're blatant: politicking, horse-trading, and self-promotion.
Still, this is a political process. Why does the church choose popes this way? How influential are Italian cardinals? And is this even a good system in the first place?
For answers, I turned to Frederic J. Baumgartner, professor of history at Virginia Tech and author of 2003's "Behind Locked Doors: A History of Papal Elections."

Q: A conclave is actually a form of democracy, isn't it? How did popes begin to be chosen by a group of men?

A: In the early church, the Christian community as a whole chose the bishop. It wasn't a process of election as such, or at least what we'd call an election. It was a system of acclamation. Someone said, "I'd like to be bishop," and they were chosen by consensus.
Over time, it evolved into a system in which the clergy of the city had the right to choose the bishop. The problem was that once the Holy Roman Empire became powerful, it was able to manipulate the clergy. In the 900s and early 1000s, the choice was really that of the emperor: He chooses the pope and the clergy does the rubber stamping.
---