'Salt Sugar Fat' highlights the questionable ingredients in popular food
(Read article summary)
'Salt Sugar Fat,' by journalist Michael Moss, explores how the three title ingredients make their way into American food and the dangers that they may pose.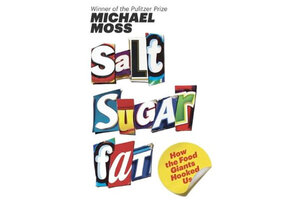 There are three enemies of Americans in the food that the country eats daily, says writer Michael Moss, and their names are also the title of his new book: "Salt Sugar Fat."
Moss, a New York Times reporter, won a Pulitzer Prize for his 2009 story about what was really going into the meat eaten by US residents, and his research for the piece inspired him to go farther into investigating what goes into our food. His new book argues that three ingredients are causing health problems in Americans, and considers the degree to which many consumers are ingesting far more of these products than they may realize.
Moss was able to convince many in the food industry to speak honestly about their policies in his interviews for the book.
"Many opened up, not always eagerly, but willingly, to help me tell the full story," Moss told the Chicago Tribune. "These interviews also ... showed me that many of these companies are peopled with pure scientists who have a conscience and are well meaning. But this is America, and so these companies' primary mission is to sell items, in this case food. And they are deeply beholden to Wall Street."
Moss's book examines foods like cereals, sodas, Kraft macaroni and cheese, Oreo cookies, and more, diving into what's actually in the products and how each company is selling its wares to consumers, especially kids and teenagers.
---