Are books becoming less emotional?
(Read article summary)
Scientists analyzed over 5 million books to find trends in emotional content.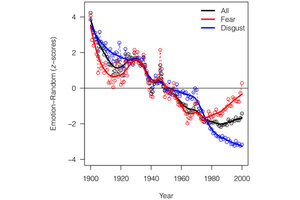 A study published on Wednesday in Public Library of Science journal PLOS ONE discussed the results of a project in which British researchers searched five million digitized books provided by Google – about 4% of all books published since 1900 – to analyze the use of emotional language in books.
The surprising conclusion they reached: There has been a marked decrease in the use of emotional words that fall in six categories (anger, disgust, fear, joy, sadness, and surprise), with the exception of an uptick in fear since the 1970's.
Within that downward trend the researchers found that American authors use more emotional language than British authors.
The six categories had been used in an earlier study to analyze the public mood through U.K. Twitter accounts. That study showed that the frequency of mood-word usage on Twitter corresponded to real-life events like natural disasters.
This more recent study found evidence that mood-word usage seemed to respond to significant historical events as well. For example, words that correspond to sadness increased during the 1940's and throughout World War II. (On the other hand, World War I didn't seem to register)
According to this new study, there has been a definite split between British and American authors and their use of emotional language since the 1960's. Americans use more mood-words than the British, although both groups use fewer than they have historically.
The researchers say that they don't know exactly what happened in the 1960's, but that decade marks the period of a definite separation, both stylistically and emotionally, between British and American English.
---