Chinua Achebe is remembered as the 'father of modern African literature'
(Read article summary)
'Things Fall Apart' author Chinua Achebe wrote his first book in 1958 and won awards for his work that included the Man Booker International Prize.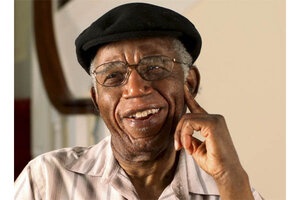 The history of Nigeria cannot be told without author Chinua Achebe's voice. The man whom fellow author Nadine Gordimer called the "father of modern African literature" died this morning at the age of 82.
Born in Nigeria in 1930, Achebe spent his childhood in colonial schools. Interested in stories from a young age, he traveled the country with his parents, who were early Christian converts and evangelists. Achebe's fascination with stories led him to read colonial literature like "Allan Quatermain" in school. In an interview with the Paris Review, he said, "I instinctively took sides with the white people. They were fine! They were excellent. They were intelligent. The others were not... they were stupid and ugly. That was the way I was introduced to the danger of not having your own stories."
His idea of Africans not having their own stories or literature became a driving force in Achebe's life. In 1958, after graduating college, he published "Things Fall Apart" (the title is a line from a Yeats poem, "The Second Coming"). His first novel depicted the struggles of a traditional African society, the Igbo, with white Christian colonists.
His publisher, not confident in its marketability, only printed 2,000 copies, but his novel is now required reading in countless high schools and colleges, serving as an example of early post-colonial literature. "Things Fall Apart" is one of, if not the, most famous and important pieces of modern African literature.
---