Gardner heist: Journalist Ulrich Boser discusses the history behind the famous theft
(Read article summary)
Will the paintings stolen from the Isabella Stewart Gardner Museum ever reappear? Boser addresses these and other questions about the heist, including the plan the thieves may have had and why Boston takes the theft so personally.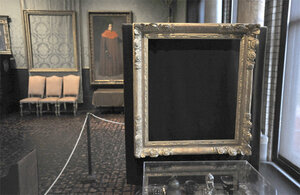 Josh Reynolds/AP
Ordinarily, there are just two ways for members of the public to enter the most remarkable small art museum in America for free: Buy a membership or be named Isabella like its founder. (And yes, they require an ID to prove the latter. Don't ask me how I know this.)
But 23 years ago this week, two visitors made their way into the museum without a ticket, a pass or the proper first name. Over 81 minutes, a pair of men ripped paintings out of frames and tore a gaping hole into Boston's heart.
The Isabella Stewart Gardner Museum has recovered from the shock of the massive theft that robbed it of an estimated $500 million worth of artwork, including pieces by Vermeer, Rembrandt, Manet, and Degas. As I discovered during a visit on St. Patrick's Day this week, the museum in an Italian-style villa remains an intimate wonderland of paintings, tapestries, drawings and more – antique chairs, ancient knickknacks, a medieval knight's tomb and even a deliciously naughty Greek sarcophagus.
But the stolen artwork remains missing, the thieves remain uncaught, the $5 millon reward remains unpaid, and empty frames remain on walls at the museum. The FBI announced this week that it thinks it knows who did it, but it's not naming names.
---