'Bonnet rippers'? Amish romances are only gaining in popularity
(Read article summary)
While the Amish themselves may find the books absurd, popular writers in the 'bonnet ripper' genre are selling millions of books.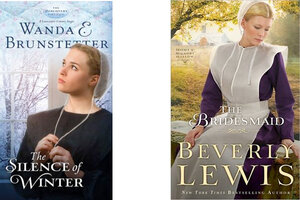 What do you get when you cross bodice rippers with Amish fiction?
That's right, bonnet rippers. In a fascinating exploration of the rise of Amish romance novels, the LA Review of Books coined that apt term that encapsulates the realization of the wildly popular genre.
At a time when most bestsellers lists would have one believe that readers are far more interested in handcuffs and bondage than demure glances and first kisses, bonnet rippers are, well, tearing up the charts. (See our recent piece on the enduring appeal of Amish fiction in the era of "Fifty Shades.")
Their popularity is astounding. According to the LA Review of Books, a new Amish romance novel hit the market every four days in 2012. "Sixty more were published in 2012 than in 2009, and 83 more than in 2002," writes the Review. It turns out the top three Amish-fiction authors – Beverly Lewis, Wanda Brunstetter, and Cindy Woodsmall – have sold more than 24 million books combined.
And folks are paying attention. Media outlets from the Wall Street Journal to Salon to ABC's Nightline have covered the phenomenon.
Publishers have taken notice, too.
---