Amazon acquires literary social media website Goodreads
(Read article summary)
Some Goodreads users are excited about the prospect of linking their Amazon devices to their Goodreads accounts while others feel betrayed by the decision.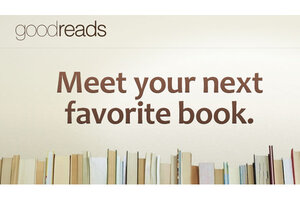 In a move that has angered some in the book world, Amazon has bought popular social media book website Goodreads.
Goodreads lets readers view recommendations from other users and comment on their favorite titles, and having the website may give Amazon more of an ability to reach readers and recommend books.
In a statement on their website, Goodreads founder Otis Chandler wrote, "Goodreads will continue to be the wonderful community that we all cherish. We plan to continue offering you everything that you love about the site—the ability to track what you read, discover great books, discuss and share them with fellow book lovers, and connect directly with your favorite authors—and your reviews and ratings will remain here on Goodreads. And it's incredibly important to us that we remain a home for all types of readers, no matter if you read on paper, audio, digitally, from scrolls, or even stone tablets."
The site was founded in 2007 and now boasts more than 16 million members. Chandler wrote on the company's blog that "Goodreads and the awesome team behind it are not going away," so it seems as if the website's staff will stay on.
Chandler said of becoming part of the Amazon company, "We truly could not think of a more perfect partner for Goodreads as we both share a love of books and an appreciation for the authors who write them. We also both love to invent products and services that touch millions of people."
The acquisition should close by July. Details such as whether Amazon will have access to information shared by Goodreads users or whether Goodreads recommendations will carry over to users' Amazon accounts have not yet been shared.
---