Roger Ebert: Author as well as movie critic
(Read article summary)
Ebert's written works ranged far and wide, from collections of his reviews (positive and negative) to a guide to London and tips on how to use a rice cooker.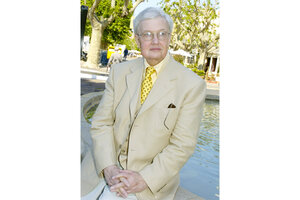 Michel Euler/AP
In addition to becoming one of the respected and beloved movie critics in America, Roger Ebert was also admired for his skills as a writer.
Books by Ebert, who died April 4, ranged from movie guides to compilations of reviews to memoirs that looked back on the many years he served as a critic.
A staple of his work was "Roger Ebert's Movie Yearbook," which was published yearly and compiled his work from the previous two-and-a-half years. Ebert released "Yearbook" every year, except for 2008, starting in 1999. His 2013 "Yearbook" edition came out this past December.
Ebert's best-known books are probably "Awake in the Dark: The Best of Roger Ebert," a collection of his work which was released in 2006, and his recent memoir "Life Itself," which came out in 2011. In "Life Itself," Ebert discusses everything from his childhood to his recent health difficulties, which left him unable to talk, eat, or drink.
Other works by the critic honored the movies he loved and addressed those he hated. In "The Great Movies" (2003) Ebert discussed films he admired. This was followed by two further editions, "The Great Movies II" in 2006, and "The Great Movies III" in 2011. He also published "I Hated, Hated, Hated This Movie" in 2002, "Your Movie Sucks" in 2007, and "A Horrible Experience of Unbearable Length" in 2012, all of which were compilations of reviews of movies which he had given two stars or less.
In addition, Ebert penned titles including "Questions For The Movie Answer Man," which came out in 1997 and featured his answers to readers' letters, and various movie recommendation books in the "Ebert's Essentials" series such as "33 Movies to Restore Your Faith in Humanity" and "25 Great French Films."
---