CourseSmart: creepy new technology that tells professors if students are reading
(Read article summary)
CourseSmart, technology which tells professors when students are skipping pages, not taking notes, or not opening their textbook at all, is expected to be widely adopted by colleges this fall.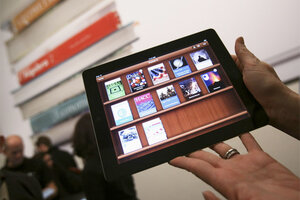 Shannon Stapleton/Reuters
He knows when you are sleeping, he knows when you're awake, but now college professors even know what students are doing outside of class – like whether they're reading their e-textbooks and taking notes.
That's thanks to CourseSmart, a new Silicon Valley digital tracking technology that allows professors to track their students' use of digital textbooks. The program is the ultimate academic Big Brother. According to a report in the New York Times, thanks to the program, professors "know when students are skipping pages, failing to highlight significant passages, not bothering to take notes – or simply not opening the book at all."
CourseSmart gives each student using its text an "engagement index," based on how many times the e-textbook was opened, for how long, how many pages were read, how much and what sort of material was highlighted, and whether notes were taken. That "engagement index" is available for professors to use to understand how individual students are responding to course material.
The CourseSmart technology, which was unveiled last year, is poised to be widely adopted by universities this fall. Already, more than 3.5 million students and educators use CourseSmart textbooks, according to the NYT. Among the schools that have already adopted the program are Clemson University, Central Carolina Technical College, Stony Brook University, and Texas A&M San Antonio.
---