Interview with poet John Ashbery
(Read article summary)
John Ashbery is recognized by many critics as one of the most eminent American poets of the 20th-century. He published his first awarding-winning book of poems "Some Trees" in 1956. Today, at 85, Ashbery shows no signs of putting his pen down any time soon. He has recently published a collection of poems entitled "Quick Question."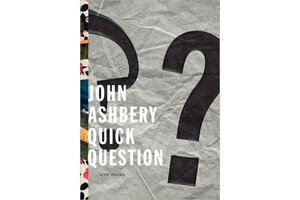 Over a career that spans 57 years, John Ashbery has picked up many literary prizes, including the Pulitzer Prize for Poetry, the National Book Critics Circle Award, and the National Book Award. Although the majority of critics have duly recognized the fruits of his talent, many have also pointed to the fact that his poems don't have – in the traditional sense – a specific subject matter.
Inspired by the chaos of the French Surrealist art movement, as well as the unpredictable music of classical 19th-century Russian composers, Ashbery's poems are experiments in language, which refuse to tie themselves to a specific location or meaning.
While Ashbery shares a number of characteristics with another American poet, Wallace Stevens, his style is undoubtedly original.
His idiosyncrasies include a fondness for making connections between high and low culture, as well as an ability to leap into several worlds, through the use of multiple voices in the space of a single poem and the enormous capabilities of his Surrealist imagination.
In a telephone call that lasted nearly two hours, I talked to Ashbery primarily about poetry. Browsing through some of his earliest, and recent work, Ashbery, very patiently read me some of his poems, giving me the background to their subject matter in the process. But as he explained over the course of our long chat, trying to put ordered sense into a chaotic world through language is not an easy task.
Could you talk about the poem 'What is Poetry' from your collection "Houseboat Days"?
---