10 most challenged books list for 2012 includes some newcomers
(Read article summary)
The most-challenged book series of 2012 was the 'Captain Underpants' books by Dav Pilkey. Former list-toppers 'ttyl' and 'The Hunger Games' are missing from the list entirely.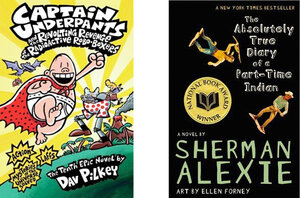 The American Library Association's list of the 10 most challenged books of 2012 featured some new titles this time around.
There were 464 challenges in total in 2012, according to the Office of Intellectual Freedom, an increase from 2011 when 326 were reported.
The "Captain Underpants" series by Dav Pilkey are the No. 1 most challenged books for the year, with those who challenged the series claiming that these books are inappropriate for their target audience and have "offensive language." The "Captain Underpants" books (the first of which was published in 1997) didn't appear in the Top 10 of last year's list and, in fact, have not appeared on any such list since 2005.
The No. 2 most-challenged title on the 2012 list is "The Absolutely True Diary of a Part-Time Indian" by Sherman Alexie, which was the fifth-most challenged title in 2011 and the second-most in 2010. Those who filed complaints against the book called it inappropriate for its age group and said that it had "offensive language, racism, [and was] sexually explicit."
---