Boston Marathon bombing: how it compares to the 1920 Wall Street attack
(Read article summary)
The 1920 bombing of Wall Street, which killed 38 and injured hundreds, was the deadliest terror attack on US civilians until Oklahoma City. The crime has never been solved.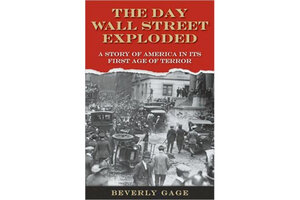 The bomb exploded in the very center of American capitalism on a weekday afternoon, just steps away from the New York Stock Exchange and the famed statue of George Washington at Federal Hall. Thirty-eight people died and hundreds were injured, several losing limbs to the explosive power of an estimated 100 sticks of dynamite.
As in Boston this week, the bomber had rigged the device to not only kill but maim through the spread of shrapnel packed into the bomb.
The United States would not see a deadlier attack of terrorism until a spring day in Oklahoma City.
Despite its horrific toll, the Wall Street bombing of 1920 is largely forgotten today. New York City instantly cleaned up the scene and moved on. No one was ever charged with the crime, and no memorial was ever built. Only the pockmarked stone of the former Morgan Bank building remains as a grim if subtle reminder.
The bombing is worth remembering. It reminds us of an era when terrorists horrified the world but had yet – until that September day – to make a point of targeting ordinary Americans in public. And it shows how the US refused to take the wrong path in the wake of tragedy.
---