World Book Night US: Washington, Michigan, and New York attract the most volunteers
(Read article summary)
As World Book Night approaches again, a list of rankings shows where volunteers – who give away free books on April 23 – are most heavily clustered in the US.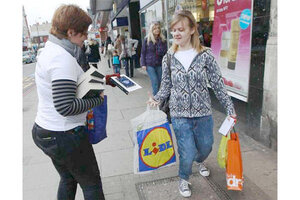 Luke Macgregor/Reuters
As World Book Night approaches, the organization behind World Book Night US has released a list showing which US cities have the largest number of volunteers handing out books.
The event, which came to the US for the first time in 2012, is being held April 23 and centers around volunteers who give free copies of books to family, acquaintances, and people they meet on the sidewalk. A particular list of titles is selected each year (this year's list includes picks like Ray Bradbury's "Fahrenheit 451" and Tina Fey's "Bossypants") and volunteers sign up to participate. April 23 was chosen as the official date because it's also the day on which playwright William Shakespeare's birthday is celebrated. The event began in the UK and Ireland in 2011. Last year volunteers in the US and Germany participated as well.
World Book Night US combined two lists when ranking participation. One ranking calculated the amount of givers by city or town per capita, while the other lists the amount of givers by region per capita.
When calculated by city or town, St. Louis, Mo. has the highest number of volunteers in the US, followed by Wichita, Kan. at number two. Louisville, Ky. and Salt Lake City, Utah are close behind them at slots three and four, respectively.
---