Texas plant explosion: A deadly 1947 explosion in Texas City was also caused by ammonium nitrate
(Read article summary)
Bill Minutaglio, author of 'City on Fire,' discusses the 1947 explosion in Texas City of a ship full of ammonium nitrate that killed hundreds and left thousands wounded.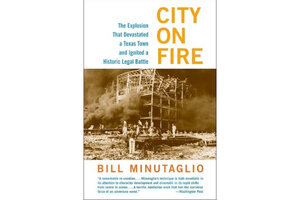 Just after World War II, Texas City – next to Galveston and not far from Houston – was the boom-iest of boom towns. The population was zooming skyward thanks to an influx of workers seeking jobs in the gritty worlds of oil, gas, metal, and chemicals.
"Everyone who lives here," a local priest said, "is a refugee steered to Texas City by a rising tide."
But the sea itself brought horror 66 years ago last week. A ship full of ammonium nitrate exploded in the Texas City port, setting off a disastrous chain reaction that left the city in ruins. Hundreds died, and thousands were wounded.
Ammonium nitrate appears to also be responsible for the deadly explosion last week at a fertilizer factory in West, Texas.
Why is this chemical compound so dangerous? How does the 1947 disaster compare to this week's tragedy? And what is the legacy of Texas City? No one may know the answers better than Texas journalist and historian Bill Minutaglio, author of 2003's well-received "City on Fire: The Forgotten Disaster That Devastated a Town and Ignited a Landmark Legal Battle."

Q: When I think of fertilizer, manure comes to mind. How does ammonium nitrate fit in?

A: Ammonium nitrate can be used to fertilize farms and fields because it is high in nitrogen. In large amounts, given the right conditions — including heat and fire – it can explode. People intent on malevolence have long known about the compound's explosive capabilities.

Q: What was ammonium nitrate used for in 1947?

A: The ammonium nitrate that blew up in 1947 in Texas City, which what some say is the greatest industrial disaster in the most industrialized nation in the world, was intended to be used as fertilizer. It was packed in bags that were stamped with the word "fertilizer" and was going to be sent from Texas City to Europe, on freighters, in order to assist in the revitalizing of farms in Europe.

Q: Why was the Texas City disaster so widespread and deadly?

A: According to official reports, 581 people died. Some believe the number to be higher. Some say as many as 5,000 people were wounded.
---