'Top of the Morning': great word-of-mouth, but not such good reviews
(Read article summary)
Brian Stelter's exposé on TV's morning news shows has gotten lots of publicity.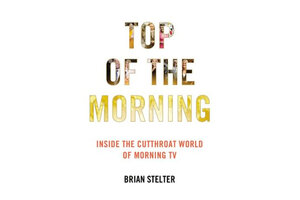 There's been plenty of talk about "Top of the Morning," journalist Brian Stelter's inside look at TV's morning news shows. But when it comes to book critics, not all of the words have been kind.
"Top of the Morning," which hit bookshelves today, aims to examine the "cutthroat world of morning TV," according to the book's subtitle. Grand Central, the book's publisher, calls the exposé "a gripping look at the most competitive time slot in television, complete with Machiavellian booking wars and manic behavior by the producers, executives, and stars."
The book is released following the firing of "Today" co-host Ann Curry by NBC. It also details "Good Morning America"'s attempt to defeat "Today" in the ratings struggle as well as "GMA"'s Robin Roberts' battle with MDS (myelodysplastic syndrome).
Stelter is a New York Times reporter, but even the NYT wasn't enamored of the book, with reviewer Ed Bark complaining that it "ends up being like a breakfast made not quite to order" and saying that the book has "more than a little overblown prose, some of it just plain silly." Bark does suggest, however, that Stelter is "just 27, so there's ample time really to get the hang of this."
Bark also notes that both "Today" anchor Matt Lauer and Curry declined to be interviewed, which necessarily limits the access to the story of Curry's departure.
---