World Book Night: the most popular books and which Broadway show is getting involved
(Read article summary)
World Book Night, the celebration of reading which includes the distribution of free books, has arrived.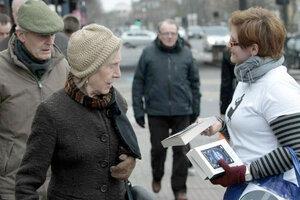 Luke Macgregor/Reuters
World Book Night – the celebration of the birthdays of William Shakespeare and Miguel de Cervantes that finds volunteers handing out free books all over the world – has arrived.
The event is being held in America this year for the second year in a row. Germany also held its first Book Night last year, while the UK and Ireland kicked off their celebrations for the first time in 2011.
On World Book Night, volunteers hand out free copies of any of 20 pre-selected books to friends, family members, and strangers on the street, all in an attempt to get the public reading. A committee of librarians and those involved in the bookselling business choose the titles to be distributed each year, and for 2013, the books being handed out include titles as varied as "Moneyball" by Michael Lewis; "Bossypants" by Tina Fey; "The Handmaid's Tale" by Margaret Atwood; "Still Alice" by Lisa Genova; and "Good Omens" by Neil Gaiman and Terry Pratchett.
---