Don DeLillo becomes first writer to receive the Library of Congress Prize for American Fiction
(Read article summary)
Don DeLillo, who has been called 'chief shaman of the paranoid school of American fiction,' is the author of works that include 'White Noise' and 'Underworld.'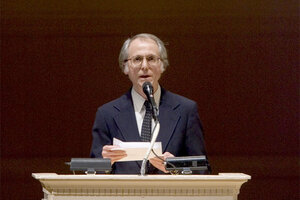 Stephen Chernin/AP
We're not sure what we're more excited about, the nation's newest book prize or the novelist who received it.
Don DeLillo, one of America's most celebrated writers, is the first recipient of the Library of Congress Prize for American Fiction, Librarian of Congress James Billington announced Thursday.
Dubbed the "chief shaman of the paranoid school of American fiction" by the New York Review of Books, DeLillo is known for "paint[ing] detailed portraits of American life in the late 20th and early 21st centuries," writes Goodreads.
"Like Dostoyevsky, Don DeLillo probes deeply into the sociopolitical and moral life of his country," Billington said in the Library of Congress's official announcement. "Over a long and important career, he has inspired his readers with the diversity of his themes and the virtuosity of his prose."
Author of more than a dozen novels, DeLillo is best known for his critically acclaimed works including the National Book Award winner, "White Noise," a satire on the effects of mass culture and technology; "Underworld," on the effects of the Cold War on American culture; and "Libra," on the assassination of John F. Kennedy.
"When I received news of this award, my first thoughts were of my mother and father, who came to this country the hard way, as young people confronting a new language and culture," DeLillo told the Library of Congress. "In a significant sense, the Library of Congress prize is the culmination of their efforts and a tribute to their memory."
---