'The Great Gatsby' movie tie-in cover rankles some fans
(Read article summary)
F. Scott Fitzgerald's 'The Great Gatsby' is experiencing huge sales in advance of Baz Luhrmann's cinematic take on the novel, but a cover featuring Luhrmann's leads doesn't appeal to some.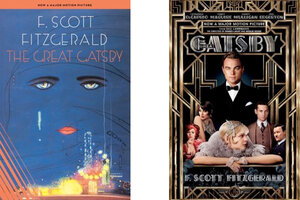 Print copies of F. Scott Fitzgerald's "The Great Gatsby" are selling like hotcakes these days. But even as the novel enjoys a resurgence, a new cover has some fans steamed.
While the original cover (you remember it from high school – that blue backdrop and the two huge eyes) is still available, a new version of the book is also available with a movie tie-in image. That one has much of the cast of Baz Luhrmann's upcoming adaptation – Leonardo DiCaprio as Gatsby; Carey Mulligan as his love interest Daisy; Joel Edgerton as Daisy's husband, Tom; and Tobey Maguire as narrator Nick Carraway – all gracing the book's front. Actress Isla Fisher as Myrtle Wilson and Elizabeth Debicki as tennis player Jordan appear as well.
---