'Sookie Stackhouse' series will end this May
(Read article summary)
The 'Sookie Stackhouse' series by Charlaine Harris – the basis for HBO's 'True Blood' TV show – will wrap up with the release of the 13th book, 'Dead Ever After.'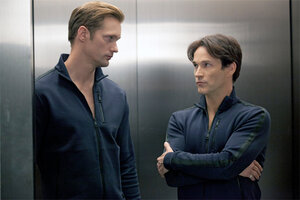 John P. Johnson/HBO
The story of Sookie Stackhouse and her supernatural friends is coming to a close.
The series by author Charlaine Harris – which is the basis for HBO's "True Blood" TV show – will end with the publication of the 13th and final book, "Dead Ever After," on May 7. According to the plot summary released by the book's publisher, Penguin Group, Sookie will find herself under suspicion for murder as she tries to decide what to do about her relationship with vampire Eric.
The "Sookie Stackhouse" series began in 2001 with the book "Dead Until Dark," and a book has been published every year since.
"Probably by the second book, I had an idea where I wanted the books to end," Harris told USA Today. "I began to feel the creativity of the series was wearing thin and I hate to keep on writing characters when I've lost my love for them. So it seemed time to end the series while I was still happy with what I was doing."
---