Amanda Knox's new memoir reveals a gentler side of the American student
(Read article summary)
Amanda Knox's memoir is titled 'Waiting to be Heard' and discusses her life from childhood to her time in prison in Italy.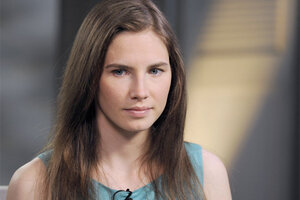 ABC/Reuters
Few figures are as polarizing as Amanda Knox, the American student originally convicted of the murder of her roommate, Meredith Kercher, in Perugia, Italy, during a study abroad gone wrong. The murder conviction was ultimately overturned in Oct. 2011, after Knox had spent four years in prison.
Most folks long ago made up their minds about Knox's guilt or innocence, casting her in their mind's eye either as the "she-devil" seen in the tabloids or an angel-faced young girl entangled in a sordid affair of another's doing.
"Waiting to be Heard," Knox's highly anticipated new memoir, which was published Tuesday, might actually change that.
According to early reviews of the book, "Waiting to be Heard" reveals a gentler side of Knox, one that just might shift readers' views of the American student.
That's because the book, a selection of memories from her time in Perugia, offers what might be the first real look at the figure at the center of this drama: Knox herself.
From her relationship with her divorced parents to her excitement over her trip to Italy to the harrowing years she spent in prison, the memoir paints the most comprehensive picture to date of Knox and invites readers to sympathize with her.
---