Edgar Awards honor Dennis Lehane, 'Midnight in Peking'
(Read article summary)
The 2013 Edgar Awards – given to the books judged best in the mystery genre – went to titles that take readers from Boston to Peking, and from the Roaring '20s to the possible end of the world.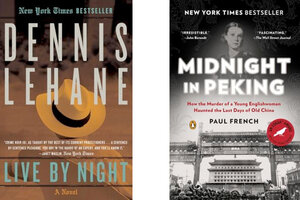 This year, the Edgars, one of the highest honors in the mystery writing genre, bestowed titles on books with subject matter ranging from a foreigner killed in China to a look at the world of crime during the Roaring '20s.
The Best Novel award was given to Dennis Lehane's book "Live by Night," which follows the son of a police captain as he explores the criminal underground of Prohibition-Era America. Lehane, a Boston native, paid sweet tribute to the recently threatened city in his acceptance speech, according to industry newsletter Shelf Awareness.
"Everything about me that people love, and everything about me that pisses people off comes from being from Boston," Lehane said.
The Best Fact Crime award went to author Paul French for his work "Midnight in Peking," which explored the death of a young Englishwoman in China in the 1930s as the country was experiencing tremendous change. (Check out Monitor writer Randy Dotinga's Q&A with French here.) French came from Shanghai to accept his Edgar Award in New York City.
"It was a very long flight but obviously worth it," French said during his acceptance speech.
---