Is the unabridged 'Anne Frank: Diary of a Young Girl' too much of a good thing?
(Read article summary)
The unabridged version of 'Anne Frank: Diary of a Young Girl' includes passages in which Frank writes about her own anatomy – leading to a call for the book's removal from a 7th-grade classroom.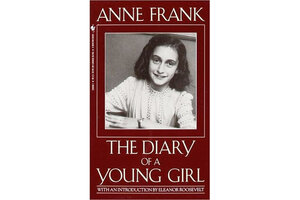 "Anne Frank: Diary of a Young Girl" is under fire again.
This time it's for passages deemed "pornographic" by a Michigan mom who's petitioned to have the unabridged version of the book removed from her daughter's school. The call has drawn national attention from free speech advocates who have slammed the effort, calling it censorship, and are fighting to have the unabridged version of the book remain in Northville district schools.
At issue are passages in which Frank discovers her anatomy and shares her wonderment with readers.
"There are little folds of skin all over the place, you can hardly find it," one passage reads. "The little hole underneath is so terribly small that I simply can't imagine how a man can get in there, let alone how a whole baby can get out!"
This passage, in addition to ones describing in detail specific parts of the female anatomy, upset parent Gail Horalek.
"It's pretty graphic, and it's pretty pornographic for seventh-grade boys and girls to be reading," Horalek told Detroit's Fox affiliate. "It's inappropriate for a teacher to be giving this material out to the kids when it's really the parents' job to give the students this information."
She added, "It doesn't mean my child is sheltered, it doesn't mean I live in a bubble, and it doesn't mean I'm trying to ban books."
Horalek launched a formal complaint asking for the unabridged version of the diary to be removed from the school, a petition now under review. She asked that the abridged version, sans graphic passages, be swapped in for the unabridged version. Otherwise, she said, the school should get parental permission before assigning the book.
Known as the "Definitive Version," the unabridged version of Frank's diary includes roughly 30 percent more material left out of the original 1947 edition after Frank's father, Otto, asked the publisher to remove certain passages. The book, which describes the coming of age of a Jewish teenager during the Holocaust as she hides from Nazi police, is a mainstay in schools around the country and has sold millions of copies worldwide.
---