FDR vs. Lindbergh: Lynne Olson discusses America's debate over WWII
(Read article summary)
'Those Angry Days' examines the battle over whether America should enter the international conflict.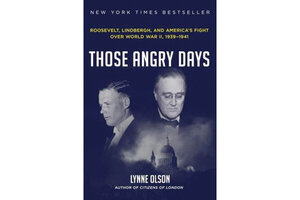 There may have been no war more necessary than World War II. But the Americans who lived in the late 1930s and early 1940s couldn't see into the future, and many believed Germany and Japan didn't pose a major threat. War, they argued, would be a disaster.
As author Lynne Olson writes in her new book, a roiling debate erupted across the US, pitting two of the nation's most admired men against each other. Those Angry Days: Roosevelt, Lindbergh, and America's Fight Over World War II, 1939-1941, captures a forgotten battle over the country's role in the world and the lives of American soldiers.
The Monitor's Danny Heitman called "Those Angry Days" an "absorbing chronicle." Olson has plenty of experience writing about international affairs: In 2010, I wrote in the Monitor that there was "plenty to appreciate" in Olson's previous book, "Citizens of London: The Americans Who Stood With Britain in Its Darkest, Finest Hour."
In an interview, I asked Olson about the fiery movement against the war, the bizarre personality of Charles Lindbergh, and the lessons of the big debate today.

Q: It took the United States more than two years to enter World War II. Why were Americans so unwilling to protect Europe – including friends like the UK and France – from a rampaging Germany?

A: The US has had an isolationist tradition from the beginning. There was an old idea that we had established ourselves as a country to get away from Europe and stay away from all the entanglements in Europe and the rest of the world.
---