'Tiger Eyes,' to be released in June, is the first movie adaptation of a Judy Blume book
(Read article summary)
'Tiger Eyes,' which will hit theaters June 7, was directed by Blume's son Lawrence.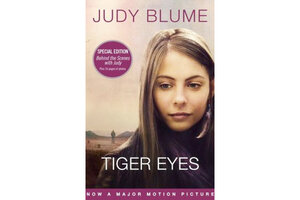 Children's author Judy Blume's book "Tiger Eyes" has been adapted into a movie that will be released this summer. It is the first-ever film version of one of Blume's books.
The movie is directed by Blume's son Lawrence and will be released June 7. It stars "Arrow" actress Willa Holland as protagonist Davey and Amy Jo Johnson of "Flash Point" as her mother, Gwen.
Blume adapted the book for the screen with her son Lawrence.
The fact that the movie is being released by an independent studio, Freestyle Digital Media, and in a fairly quiet fashion (it's coming to theaters in a limited release and will be available on demand as well as on iTunes) has been a positive thing, Lawrence told Entertainment Weekly.
"The fact that we had total artistic control is rare," he said of the filmmaking process. "For better or worse, it's our movie."
"We were able to do this with really nobody watching," Blume added. "And it looks beautiful."
"Tiger Eyes" follows Davey and her family – mother Gwen and brother Jason – after her father, Adam, is shot in a convenience store robbery. The family goes to stay in New Mexico with Davey's aunt and uncle as Davey tries to recover from the death of her father.
---