Amazon's Kindle Worlds will allow writers to sell fan fiction
(Read article summary)
The digital publishing platform will let fans write, publish, and sell the stories they've written based on popular books, TV shows, and more.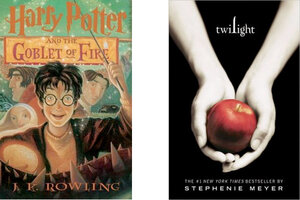 The world of fan fiction – in which fans write stories based on the characters in popular book series, TV shows, movies, and games – has few rules.
For example, in some fan fiction on the popular site fanfiction.net, where users share fan fiction for free, Harry Potter may get pregnant, Mr. Darcy and Elizabeth may share their first kiss on the moon, and Bella Swan might actually be a Soviet spy.
The one and only rule of fan fiction: you can't sell it. (Unless the fan fiction is based on work already in the public domain.)
Until now. On Wednesday Amazon announced Kindle Worlds, "the first commercial publishing platform that will enable any writer to create fan fiction based on a range of original stories and characters and earn royalties for doing so," according to Amazon's press release.
For the first time, the new digital publishing platform allows writers to write, publish, and sell fan fiction legally, all through Amazon.
"At Kindle, we're not only inventing on the hardware and software side of the business, we're inventing new ways to create books," said Philip Patrick, Director, Business Development and Publisher of Kindle Worlds, in a statement. "Our goal with Kindle Worlds is to create a home for authors to build on the Worlds we license, and give readers more stories from the Worlds they enjoy."
---