Stephen King: his childhood, his family, what scares him
(Read article summary)
Stephen King's new book, 'Joyland,' hits bookstores June 4.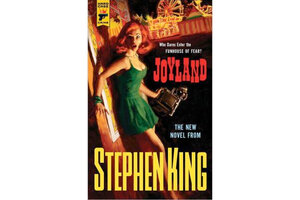 Stephen King's new novel, "Joyland," began 20 years ago with a single image the writer couldn't shake from his head: a boy, in a wheelchair, flying a kite on a beach.
From that image, a story slowly took shape, King told NPR, until it culminated in his latest book, a retro thriller about a haunted small-town carnival.
Set in North Carolina in 1973, "Joyland" follows a heartbroken college student who takes a job at the kooky beachfront amusement park where he learns the secret history behind a gory murder and gets pulled into the eerie world of carnies. The book, which is published by hard-boiled crime publisher Hard Case Crime, is set to hit bookstores June 4.
King, who rarely gives interviews, spoke with both NPR and Parade Magazine about "Joyland." We've included some of the highlights here:
How "Joyland" harkens back to King's childhood:
King told NPR he chose Hard Case Crime because the publisher reminded him of his favorite childhood reads.
"Hard Case Crime is a throwback to the books that I loved as a kid," King said. "We lived way out in the country, and my mother would go once a week shopping, and she would go to the Red & White or the A&P to pick up her groceries. And I would immediately beat feet to Robert's Drugstore, where they had a couple of those turn-around wire racks with the hard-boiled paperbacks that usually featured a girl with scanty clothing on the front."
---