'Lost Cat': Do we ever really know our pets?
(Read article summary)
Caroline Paul thought she knew her cats inside out – until one went missing and came back revitalized. She and illustrator (and partner) Wendy MacNaughton tell the story of their journey into the life of their cat.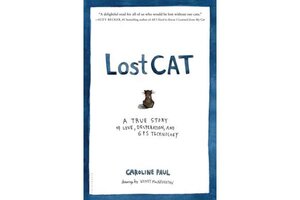 Caroline Paul's life was turned upside down when she was involved in a plane crash. But then, while she was recovering, there was a further shock: One of her two beloved pet cats went missing. Caroline grieved, fretted, and fussed for five weeks until suddenly Tibby came back – fat, happy, and full of a bravado never seen before.
What had happened? Where had Tibby been? Who was this strange new Tibby?
Hoping to get some answers, Caroline enlisted the help of her friend (now her partner) Wendy MacNaughton. Using GPS technology, cat cameras, and psychics, they did their best to decode Tibby's secret life. They tell the story of their quest in Lost Cat: A True Story of Love, Desperation, and GPS Technology, written by Caroline and illustrated by Wendy.
Monitor books editor Marjorie Kehe recently talked with both Caroline and Wendy about their book and their experiences.
Q. You wrote a book about an obsession with a lost cat. Are people starting to treat you like crazy cat ladies?
Caroline: Mostly – unless I'm reading them wrong – I don't think people think that I'm crazy. But we've had a lot of people come up to us and tell us how important their cats are to them and many have used the phrase, "My cat saved my life." So I think there's a lot of people out there who have the same bond with their animals as we did throughout this story.
Sure, let's be honest, we have gotten a couple of crazy-cat-people comments. But even people who are dog lovers are saying that they were really touched by [the book] because they had a similar feeling about their animals. And the truth is, this story is called "Lost Cat" but it is really lost humans and it's about the way our animals can bring us back into the world.
---