How I got to meet Neil Gaiman
(Read article summary)
Neil Gaiman reached out to his followers on Twitter asking for their help in creating his next book. Their collaboration lead to a beautiful end product and now I have my own copy.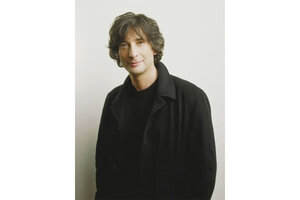 Kimberly Butler/Harper Collins
It was just the first week of my summer internship and already – a chance to meet Neil Gaiman! He was scheduled to appear at a press event at the Multicultural Arts Center in Cambridge, Mass., to talk about and read from his new book, "A Calendar of Tales" and I was invited to attend. Surrounded by fancy food and good company, I couldn't have been more excited.
Reporters and fans alike were given time to mingle before the great author arrived. But when he did appear, it wasn't a grand entrance. He sort of just appeared out of nowhere and started talking to everyone like they were his best friends.
Head-to-toe black outfit, charming accent, and adorably quirky personality – it was @neilhimself, in real life!
He spoke with us about the project that led to "A Calendar of Tales." Gaiman teamed up with BlackBerry to work on their Keep Moving Project where he connected with his many Twitter followers, asking them to help fuel the ideas for his next book. Twelve questions were posted (one for each month) and the thousands of responding posts were sifted through until Gaiman was able to narrow them down to twelve.
He then took those prompts and created a story out of them. Following that, he asked for paintings and pictures to go with the stories, spending hours picking out the twelve best representations and a winner. Some of the Twitter and art winners were on stage with him at the Cambridge event. It was just as much their book as his.
---