'The Yearling,' by Marjorie Kinnan Rawlings, finds a place in prison
(Read article summary)
Just in time for Father's Day, prison inmates in an English class turned the paternal wisdom in 'The Yearling' into a talk-radio script.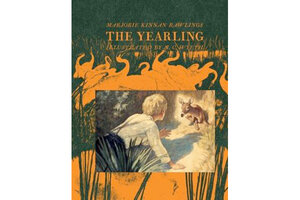 As a college professor who teaches in a prison, I wondered: Could "The Yearling" – written by a white woman, published in 1938, and full of planting and plowing – somehow hold the attention of inmates striving for three credits that might someday transfer to a community college transcript?
Employing the 1947 movie adaptation, I "previewed" the book for the inmates who had enrolled in the English Composition course that I teach in a Connecticut prison. My student-inmates rightly gauged "The Yearling" to be very "white" – "redneck white." Our class, however, mirroring the populations of many US prisons, is very non-white.
Set on a Florida bayou (scrub country) farm in the 1870s, Marjorie Kinnan Rawlings' novel is far removed residentially, racially, and atmospherically from the neighborhoods where most of my students grew up. The dad (Pa, Penny Baxter) is a kind of "alien," very different in tone and temperament from many of the men they grew up with. But although the book was not an obvious choice, I discovered that a good number of copies could be purchased on the cheap at library book sales and used-book shops. The economics were compelling and so I went with it.
After the video preview, my students were quick to admit that the book had some "cred."
"The Yearling" was the main selection of the Book of the Month Club in April 1938. It was the best-selling novel in America in 1938. And it won the 1939 Pulitzer Prize for fiction.
Still, I felt skeptical. How could I deliver the unvarnished tolerant wisdom of "Penny" Baxter, the novel's gentle father figure, to my students?
---