Superman: Why we've loved him through the years
(Read article summary)
Superman is getting another make-over with 'Man of Steel' now out in theaters. Boston-based writer Larry Tye explains why we've loved this nice-guy superhero so long and so well.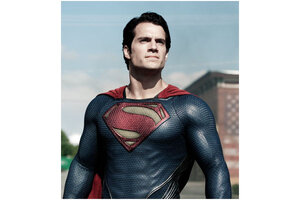 Unlike many of his counterparts, Superman doesn't have enough issues to fill a newsstand.
This mostly well-adjusted nice guy never embraces the darkness like Batman, Spider-Man, and all the other superhero orphans who could use a spot of therapy.
That's pretty remarkable considering the potential for phobias (eek! Kryptonite!), parental resentment (he was abandoned), and low self-esteem (do these tights make me look fat?).
Superman was a sunny character in the beginning, actually, and his goody-goody nature doesn't change in "Man of Steel," the big Hollywood film that opens today.
How has he remained such a softie – a "Big Blue Boy Scout," as some call him – after all these years? And what has changed about the Man from Smallville? For the answer, I turned to Boston writer Larry Tye, author of 2012's Superman: The High-Flying History of America's Most Enduring Hero.
Q: Darkness lurks in the lives of many superheroes, from the violent loss of parents (Black Panther, Daredevil) and alcoholism (Iron Man) to family rejection (various X-Men) and even child abuse (Incredible Hulk). Did Superman ever become a dark character?
A: Relatively speaking, he's been on the far light side of the spectrum. At various times people have played around with him being a darker character. But fans or editors have pushed him back to light every time they've done that.
Q: How do you think this affects his appeal?
A: At moments like now, when it like the world has enough dark heroes, Superman's plucky and righteous familiarity makes him reassuring. He was the model that Batman and Spider-Man were built on. Spider-Man is the anti-Superman, and Batman is the dark Superman.
Q: How did he diverge from Batman, who – 1960s TV show aside – is one grim guy?
A: At his best, Batman is as dark as he can get. At his best, Superman is as light as he can get.
If I wanted to be crude and cynical, I would say they were each filling a niche in the marketplace. There's been an understanding that there's an opening for a dark hero and also an opening for a hero of light.
---