Can you inherit an e-book?
(Read article summary)
Passing on your favorite books to your heirs has sentimental value. But how will that work if your library is digital?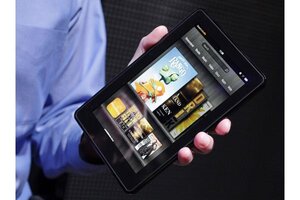 AP Photo/Mark Lennihan, File
In settling the estate of my Aunt Eunice, who died recently at 94, her nieces and nephews gathered at her house a few months ago to divide her things, including her personal library.
Tim, my oldest brother, got Eunice's bird books. He's been carrying them into the yard on mild mornings, comparing the birds in the pages with the birds in the branches, testing literature against life.
I got Eunice's Plutarch, her English poetry, and the many coffee-table books about her favorite artist, Andrew Wyeth. I knew little about Wyeth before these volumes dropped in my lap. But thanks to this unexpected gift, I've been spending my evenings trailing Wyeth across one wheat-colored landscape after another, learning what all the fuss is about.
When Eunice's books passed from one household to another, what we inherited, I suppose, was a particular way of seeing things, an intimate philosophy. That's what a personal library is, I guess: an assortment of books that have survived successive purgings of the shelves over the years, leaving only the ideas and insights a reader truly treasures. To open these books is to remember what Eunice loved, and to indulge the possibility that they might attract our affection, too.
This is largely how literary tradition has been built over the years – in the physical passage of books from one generation to the next, the choosing of what to hold dear and what to discard. The books that a succession of descendants decides to keep become, through stubborn resilience, the works we call classics.
But I've been wondering, as I look at the books that once stood on Eunice's shelves and now stand on mine, how all of this is going to work in the world of digital publishing. I don't want to sound dismissive of e-books, which have some distinct advantages over traditional books. But it's not quite the same, I imagine, to discover, upon the death of a loved one, that you're the proud owner of the dear departed's e-reader. A digital library seems much too fragile to constitute a true bequeathing of a body of knowledge. One cannot easily envision an heirloom download of a John Updike novel, for example, passing from father to son to grandson.
---