Spy vs. Spy: 16th-Century Style
(Read article summary)
Thanks to human nature, the essence of espionage hasn't changed much in 500 years. Historian Stephen Budiansky compares spying in the 16th-century with modern-day tactics.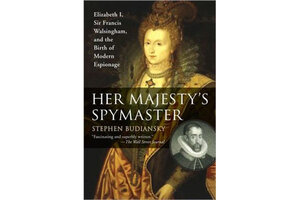 With a name like Edward Snowden, the world's most famous fugitive sounds like he just arrived from 16th-century England. And he'd actually have fit in pretty well back then. Just like our own, the Elizabethan era bore the burden of spies and spymasters, double agents and devious plots, code-breakers and eavesdroppers.
Behind much of the skullduggery was Queen Elizabeth I's secretary, a man named Francis Walsingham. His job: Help run the country, fend off threats and protect his boss from being assassinated or overthrown. Walsingham, who went about his business with ruthless and often-deadly vigor, has been the subject of at least five major books in the last decade, including 2005's Her Majesty's Spymaster: Elizabeth I, Sir Francis Walsingham, and the Birth of Modern Espionage by Stephen Budiansky.
I asked Budiansky, a historian who's written books about topics from dogs to code-breaking, about the dark world of Elizabethan espionage and its links to today.

Q: Why did England need spies?
A: England faced a very fluid, very dangerous and incredibly complex situation with threats from France, Scotland, the pope, and possibly Spain. Here was a country that was outnumbered by its much more powerful continental European rivals. There were factions and on-and-off alliances with France, the Netherlands, and Spain. The leader, the queen, was in quite a bit of personal danger. The pope had basically issued an edict sanctioning her assassination by a Catholic because she was an apostate to the true faith as he saw it.
Walsingham was a very modern man, and strikingly ahead of his time in understanding the nature of intelligence and its great importance in protecting the nation and keeping one's rivals off balance. One of his sayings was that "knowledge is never too dear." It was a great force multiplier to be one step ahead of a potential rival or to know that a country that had been friendly was planning to shift.
---