'On the Fireline' author Matthew Desmond recalls life as a wildland firefighter
(Read article summary)
Desmond, who worked as a firefighter in Arizona during his college years, discusses the difference between rural and city firefighting and how firefighters talk themselves through the risk of the job.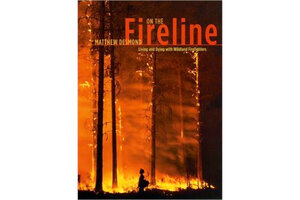 A decade has passed since Harvard University sociology professor Matthew Desmond spent his college summers working as a wildland firefighter in northern Arizona. But he hasn't left the woods behind.
Desmond relied on his experiences to write his 2007 book On the Fireline: Living and Dying with Wildland Firefighters. And yesterday he found himself on the phone trying to reach his friends in the rugged land where he grew up. He wanted to know if they were OK.
Details are still emerging about the deaths of 19 firefighters near the Arizona city of Prescott. They were caught in a firestorm while trying to fight a wildfire that threatened the tiny town of Yarnell.
Desmond grew up in nearby Winslow, Ariz. (yes, the little town from the song) and spent many scorching summer months waiting to rush toward smoke on the horizon.
---