Looking back at Gettysburg: Writer Tom Desjardin discusses the legacy of the Civil War conflict
(Read article summary)
Gettysburg, which reaches its 150th anniversary this month, was a costly battle for both the Union and Confederate armies. Desjardin discusses how the town recovered from the events and some surprising stories about the battle.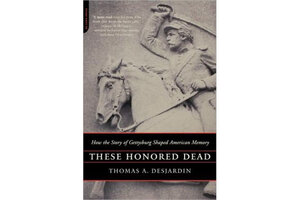 A century and a half ago this month, the Battle of Gettysburg lasted for three days. Then the armies of North and South promptly skipped town. Generations of Civil War historians would follow their paths to victory and surrender at Appomattox. But what about Gettysburg itself, then a tiny southern Pennsylvania town just above the Maryland border?
The residents of Gettysburg faced battles of their own: to cope with thousands of dead and injured men, to rebuild their shattered community, to find hope and resilience amid so much carnage. No other town ravaged by a Civil War battle faced quite the same struggles. "A town of 2,400 ends up being invaded by 170,000 combatants who leave 8,000 dead and 22,000 wounded and all this destruction," said Tom Desjardin, historian for the Maine Bureau of Parks and Lands.
Desjardin explored the legacy of the battle in his 2004 book "These Honored Dead: How The Story Of Gettysburg Shaped American Memory." I asked him to describe the Gettysburg of 1863, the scars of the battle, and the long march toward recovery.
Q: What was Gettysburg like? What kinds of people lived there?
A: Like many American towns of that time, it was a farming community. It was also known for carriage-making and for being a crossroads on the road from Philadelphia to Pittsburgh and from Harrisburg to Baltimore and Washington.
There was a seminary, a small college, and a railroad. I'm sure there were wagon makers, a hardware store, and a place to sell grain. But there wasn't big industry or a big mill, and there weren't any big mansions or anything like that.
Q: The battle came as the Confederate Army tried to bring the war to the North by invading it. Would a town like Gettysburg ever have expected the Civil War to appear at its doorstep?
A: Not until General Lee headed north. Before that, no one thought of the war spilling into Pennsylvania. The idea that it would go that far north was a bit unthinkable.
Q: So was the battle itself a complete shock?
---