Why did J.K. Rowling write under a pseudonym? 'Just for the joy of it'
(Read article summary)
Fellow bestselling author Stephen King and others in the literary community weigh in on J.K. Rowling's choice to release her latest book, 'The Cuckoo's Calling,' using a pen name.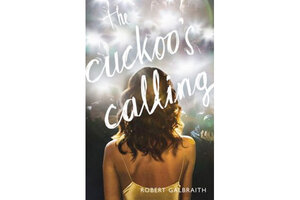 Any news about J.K. Rowling and her books is guaranteed to make headlines around the world.
So when it broke that not only had Rowling written another book but that readers could already find it in stores as well as in e-book format, the novel shot to the top of bestseller lists as rapidly as it disappeared from bookshop shelves. How'd the public miss it? Rowling had released her novel, "The Cuckoo's Calling," under the pseudonym Robert Galbraith (described as a former member of the Royal Military Police).
"I had hoped to keep this secret a little longer," Rowling said in a statement. "Being Robert Galbraith has been such a liberating experience. It has been wonderful to publish without hype or expectation, and pure pleasure to get feedback under a different name."
She also thanked "the writers and reviewers, both in the newspapers and online, who have been so generous to the novel."
It all made sense to horror writer Stephen King. King, who has also written under a pseudonym (he published short stories under the name Richard Bachman until Bachman's real identity was discovered), told USA Today he understood why the "Harry Potter" author would want to publish something under a new name.
"Jo is right about one big thing – what a pleasure, what a blessed relief, to write in anonymity, just for the joy of it," he said. "Now that I know, I can't wait to read the book."
---