Could Hannah Arendt's 1963 book influence the Boston Marathon bombing trial and coverage?
(Read article summary)
In 'Eichmann in Jerusalem,' Hannah Arendt portrayed the SS officer as a self-deluded functionary whose mindset allowed him to facilitate murders on a massive scale. Would anyone argue the same for those who murder in the name of jihad?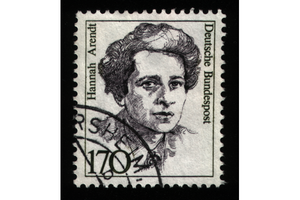 With legal proceedings against both alleged Boston Marathon bomber Dzhokhar Tsarnaev and alleged Fort Hood shooter Army Maj. Nidal Hasan moving forward, questions about the culpability of those who murder in the name of a cause may again become the subject of debate.
In the court martial of Hasan, at Fort Hood, the accused has already proclaimed that he was acting in the defense of his beliefs. And in Boston, Tsarnaev's lawyers have entered "not guilty" pleas to the 30-count indictment. Might either or both try to explain and justify their actions as responses to "a higher calling"? And to what extent might a reporter take up such equivocations and evasions – and rally sympathy for the defense by castigating the prosecution and the judges?
That's what happened 50 years ago. Hannah Arendt, a political philosopher, found fault with and ridiculed the prosecutors and judges in the 1961 Jerusalem trial of Holocaust facilitator Adolf Eichmann, as well as with the prosecutors and judges at the Nuremberg Trials. Writing for The New Yorker (Arendt's pieces were later published in the 1963 book "Eichmann in Jerusalem: A Report on the Banality of Evil"), Arendt portrayed Eichmann as self-deceiving and cliché-bound.
---