J.K. Rowling reveals more about her reasons for writing with a pseudonym for 'Cuckoo's Calling'
(Read article summary)
Rowling recently discussed her reasons for making her literary alter ego a military man and why she chose to write a mystery on Robert Galbraith's author website.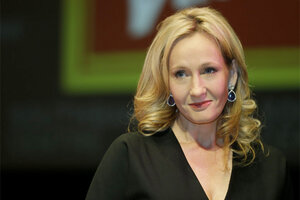 Lefteris Pitarakis/AP
It was the unmasking heard around the literary world when it was revealed that what was thought to be a debut mystery novel written by a man named Robert Galbraith had actually been penned by "Harry Potter" author J.K. Rowling.
Now J.K. Rowling has revealed more about her decision to write the novel under a pseudonym via the frequently asked questions section on Galbraith's author website.
"I've always loved reading detective fiction," the author wrote. "Most of the Harry Potter stories are whodunits at heart… but I've wanted to try the real thing for a long time. As for the pseudonym, I was yearning to go back to the beginning of a writing career in this new genre, to work without hype or expectation and to receive totally unvarnished feedback. It was a fantastic experience and I only wish it could have gone on a little longer."
Rowling also discussed why she had Galbraith be a former member of the military.
"It was the easiest and most plausible reason for Robert to know how the Special Investigation Branch operates and investigates," she said. "Another reason for making him a military man working in the civilian security industry was to give him a solid excuse not to appear in public or provide a photograph."
Rowling had already expressed her sadness that she was revealed as the author so quickly, and she reiterated that on the Galbraith site.
"If anyone had seen the labyrinthine plans I laid to conceal my identity (or indeed my expression when I realised that the game was up!) they would realise how little I wanted to be discovered," she wrote. "I hoped to keep the secret as long as possible… This was not a leak or marketing ploy by me, my publisher or agent, both of whom have been completely supportive of my desire to fly under the radar. If sales were what mattered to me most, I would have written under my own name from the start, and with the greatest fanfare."
---