Happy birthday, Harry Potter! A look back at Harry's special days
(Read article summary)
The birthday of Harry Potter falls on July 31 (which also happens to be the birthday of J.K Rowling). In the Potter universe, the days are usually eventful ones.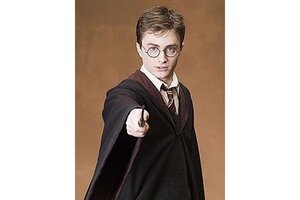 Murray Close/Warner Bros. Pictures
Happy birthday, Harry Potter!
The protagonist, arguably the best-known literary hero of the past 20 years, happens to share a birthday with his creator, J.K. Rowling. This year – if we're relying on the calendar that governs the Potter universe – Harry would be celebrating his 33rd birthday.
Over his seven years (well, really six) as a student at Hogwarts School of Witchcraft and Wizardry, many interesting and sometimes catastrophic events fell on Harry's special day. Is he just a magnet for chaos, or is it merely that, as he said wearily in "Harry Potter and the Prisoner of Azkaban," "I don't go looking for trouble. Trouble usually finds me"?
Either way, here's how Harry spent his birthday during the years his faithful readers came to know him. (Warning: spoilers for the series.)
Age 11: This was possibly Harry's most memorable birthday of all. Shortly past midnight on this day, a half-giant named Rubeus Hagrid broke down the door of the tiny cabin in which Harry, his uncle Vernon Dursley, aunt Petunia, and cousin Dudley were sleeping with very important news for Harry: He was a wizard.
Age 12: On the day of Harry's 12th birthday, he was feeling lonely and neglected because he had been trapped at the Dursleys' house all summer and his two best friends, Ron and Hermione, hadn't sent him any letters or packages all summer. While the Dursleys entertained one of Vernon's business clients downstairs and Harry sat, banished, in his room, he soon learned why he hadn't received any correspondence. A house elf named Dobby, who appeared in his room, had been intercepting the letters in an attempt to discourage Harry from returning to Hogwarts, where Dobby believed he would be in danger. In an attempt to make Harry promise not to go back, Dobby levitated the pudding intended for the Dursleys' dessert. When Harry refused, Dobby let it fall to the floor and disappeared. Harry was instantly blamed for the accident and confined to his room by the Dursleys.
---