Jeff Bezos buys The Washington Post. What does that mean for Amazon?
(Read article summary)
Jeff Bezos has stated that 'the values of The Post do not need changing.' But how will the move affect Amazon?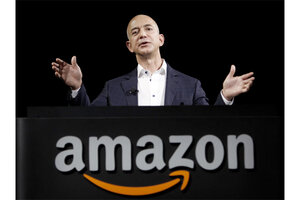 Reed Saxon/AP
Jeff Bezos, the founder and CEO of online bookselling titan Amazon, has inked a deal to buy The Washington Post.
Bezos wrote a letter to the employees of the paper via the Post. In it, he acknowledged "many of you will greet [the news] with a degree of apprehension."
"The values of The Post do not need changing," he wrote. "The paper's duty will remain to its readers and not to the private interests of its owners.... We will need to invent, which means we will need to experiment…. Journalism plays a critical role in a free society, and The Washington Post – as the hometown paper of the capital city of the United States – is especially important. I would highlight two kinds of courage the Grahams have shown as owners that I hope to channel. The first is the courage to say wait, be sure, slow down, get another source. Real people and their reputations, livelihoods and families are at stake. The second is the courage to say follow the story, no matter the cost."
Bezos mentioned in the letter that "I won't be leading The Washington Post day-to-day. I am happily living in 'the other Washington' where I have a day job that I love."
The newspaper was purchased by an entity that belongs to Bezos alone, not Amazon.
Donald E. Graham, CEO of the Washington Post Company and its chairman, said he and CEO and publisher of the Post Katharine Weymouth decided to sell after "years of familiar newspaper-industry challenges made us wonder if there might be another owner who would be better for the Post (after a transaction that would be in the best interest of our shareholders). Jeff Bezos' proven technology and business genius, his long-term approach and his personal decency make him a uniquely good new owner for the Post."
---