Are Shakespeare's fingerprints all over this – or not?
(Read article summary)
University of Texas professor Douglas Bruster is claiming lines of 'The Spanish Tragedy' by Thomas Kyd were written by the Bard.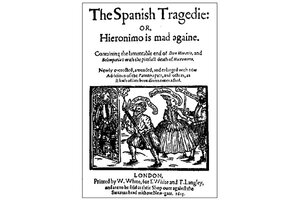 Has proof surfaced that legendary playwright William Shakespeare wrote a section of Thomas Kyd's play "The Spanish Tragedy"?
Scholars have long debated whether 325 lines of the Elizabethan drama were written by the Bard. The original script, which is attributed to Kyd and dates from the late 1500s, had several sections added to a 1602 quarto printed after Kyd's death.
And now University of Texas professor Douglas Bruster is saying that he has new evidence that the lines were penned by Shakespeare. What had looked like some clumsy and un-Shakespearean verbiage is just a printer's mistake, argues Bruster, that occurred when the printer misread Shakespeare's handwriting.
For example, one part of the text printed inserts a confusing "I, or yet" at the end of a sentence, a phrase which doesn't seem to make sense where it's put in the speech. The awkwardness of this language is one of the reasons scholars have argued that the lines could not have been written by Shakespeare.
But Bruster thinks Shakespeare wrote "Ier," indicating that the character Hieronimo (a name sometimes written during that time period as Ieronimo) was speaking, and the printers misinterpreted his words.
"Once you realize that it's Shakespeare's handwriting that's responsible for the misreading, it's no longer a bad line," Bruster said. "It's actually a gorgeous passage."
Bruster says he has been able to determine that the writing in "Tragedy" resembles Shakespeare's by examining pages in the British Museum that are believed to have been written by the playwright.
---