Henrietta Lacks family, National Institutes of Health come to privacy agreement
(Read article summary)
The Lacks family, who became famous through Rebecca Skloot's book 'The Immortal Life of Henrietta Lacks,' will now have more say over research done using Henrietta's cells.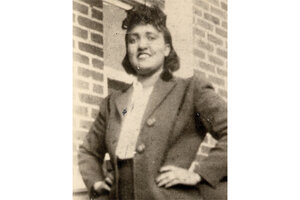 Lacks Family via the Henrietta Lacks Foundation/AP
An important new development to add to the story of Henrietta Lacks, a narrative that was discovered by thousands of readers when Rebecca Skloot's 2010 book "The Immortal Life of Henrietta Lacks" became a bestseller.
Lacks, who was diagnosed with cervical cancer and died in 1951, had tumor cells taken from her by doctors who then discovered that her cells could survive in a lab setting, something no cells had been able to do before. Since then, Lacks' cells have been used in as many as 74,000 cancer studies despite the fact that neither Lacks nor her family ever gave permission for her cells to be used for scientific research.
However, the Lacks family will now be more involved with the HeLa cells, as they're known, and how they're used for scientific purposes, as the result of a recent agreement between the Lacks family and the National Institutes of Health.
A couple of recent developments made the need for an agreement more urgent. This past March, European Molecular Biology Laboratory scientists sequenced Lacks' genome and published it, which meant anyone could download it. In addition, Nature magazine was about to release a new NIH-sponsored study from the University of Washington that had been done on Lacks' cells, examining the way that they have survived as no other cells have ever been know to do. The Lacks family objected when they found out about the two projects.
"I said, 'No, this is not right,' " Lacks' granddaughter, Jeri Lacks Whye, told The New York Times. "They should not have this up unless they have consent from the family."
The highly public nature of the information was the concern that the Lacks family wanted to address, Lacks Whye told the NYT.
---