'Last Stand' author Todd Wilkinson discusses Ted Turner's efforts to help the environment
(Read article summary)
Wilkinson's book 'Last Stand' details Ted Turner's second act as an ardent environmentalist.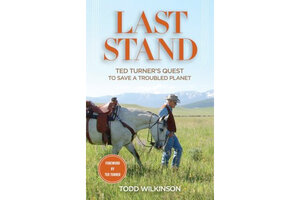 Think of Ted Turner, if you dare. If you're of a certain age, you may recall a gloriously bombastic character who created CNN, married (and divorced) Jane Fonda, owned a baseball team, ­­ and made sure everybody knew about all of it.
And then the "Mouth of the South" reinvented himself.
Maybe you missed the memo on that last part? Join the club. The media mogul's second act, as an environmentalist to beat all environmentalists, isn't common knowledge. But Turner's transformation to "eco­capitalist" is an epic tale, says Montana journalist Todd Wilkinson. He tells the story in his new book "Last Stand: Ted Turner's Quest to Save a Troubled Planet."
In an interview, Wilkinson, ­­ a Christian Science Monitor correspondent who specializes in the environment, ­­talked about how Turner is protecting the land, coming to terms with his own complicated past, and creating a legacy.
Q: What is Turner doing to help the land and the animals that live on it?
A: This whole nature experiment, the notion of him as a modern Noah using his land to protect endangered species, ­­ it's not some sort of trope. It's real.
When he arrived at his flagship ranch, the Flying D Ranch outside Bozeman, Montana, it was trampled and overrun by too many cattle. The river waters were murky, and there wasn't a lot of grass left for wildlife. Twenty­-five years later, 5,000 buffalo roam across the ranch, the grasslands are in good shape, water is flowing in streams, and there's a vibrant trout population.
---