Interview with Sheri Fink, author of 'Five Days At Memorial'
(Read article summary)
Sheri Fink, author of 'Five Days At Memorial,' talks about the five horrific days in 2005, during which hurricane Katrina and its aftermath kept healthcare workers and patients trapped in Memorial Hospital in New Orleans.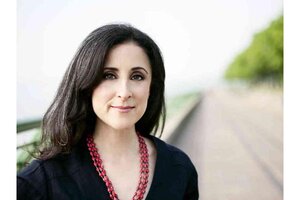 Photo by Jen Dessigner/Crown Publishing Group
For five long days during and after hurricane Katrina struck New Orleans in 2005, patients and medical workers were trapped in a nightmarish scenario in the city's Memorial Hospital. Then, as the floodwaters receded, a shocking story began to circulate – that at least 20 of Memorial's most fragile patients had been euthanized as an emergency measure.
Pulitzer Prize-winning journalist Sheri Fink, the author of the newly released Five Days At Memorial, recently spoke with Monitor Books editor Marjorie Kehe about the story and its implications for emergency workers everywhere. Here are excerpts of their conversation.
Q. What drew you to this story?
Before journalism, I had worked doing medical aid work in conflict zones. Then as a journalist I had written about hospitals in war zones. But I had never heard these types of allegations coming out of any of the places where I had worked.
So it drew my attention because I thought, whether or not this thing happened, the very fact that people who worked at the hospitals thought that it might have happened meant that something terrible had happened there. And having worked in many of these situations I also felt – and do feel – that disaster can strike anywhere, absolutely anywhere. And so there must be lessons for us. There must be some relevance for other people and other places.
Having worked in disasters, I have seen that, in those critical first few hours, those first few days – so much ends up riding on you and your neighbor and whoever is around. The official response always comes later and it always feels like it comes too slow.
Q. Why does it seem that the government, the hospital, and the hospital's corporate parent were all so ill prepared for what – given geography and past experience – was not really that unlikely of a scenario?
---