'Invisible Man' is banned from libraries in a North Carolina school district
(Read article summary)
The Randolph County Board of Education recently voted to ban Ralph Ellison's 1952 novel from libraries.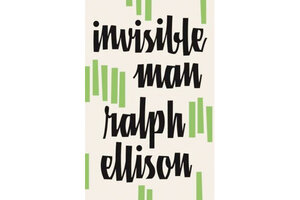 Ahead of this year's Banned Book Week, which begins Sept. 22, the Randolph County school board in North Carolina voted to ban the novel "Invisible Man" by Ralph Ellison from school libraries.
The novel came to the attention of the board after the parent of a female eleventh-grader at Randleman High School wrote a critique that spanned 12 pages. According to the Courier-Tribune of Asheboro, N.C., the parent, Kimiyutta Parson, objected to language in the text and sexual content. Parson wrote in her complaint, "The narrator writes in the first person, emphasizing his individual experiences and his feelings about the events portrayed in his life. This novel is not so innocent; instead, this book is filthier, too much for teenagers. You must respect all religions and point of views when it comes to the parents and what they feel is age appropriate for their young children to read, without their knowledge. This book is freely in your library for them to read."
The school board then voted five to two to ban the book from libraries within the school system. Each member was given a copy of the novel to peruse and at the beginning of the meeting, board chair Tommy McDonald inquired if everyone had read it.
"It was a hard read," McDonald said, according to the Courier-Tribune.
According to the Courier-Tribune, school board member Gary Mason said, "I didn't find any literary value" and said he also considered the language inappropriate.
"Invisible" was one of three novels soon-to-be juniors could choose to read over the summer before the beginning of their eleventh-grade school year, with honors students required to read two of the titles. The two other candidates were "Black Like Me" by John Howard Griffin and "Passing" by Nella Larsen. 
"Invisible" centers on an unnamed narrator, an African-American man, and his experiences with racism in America and the book was given the 1953 National Book Award. According to the American Library Association, the novel was taken off a Wisconsin high school reading list in 1975 and in 1994, parents in the Yakima, Wash. school district objected to the title but it was ultimately kept in the system.  
---