J.D. Salinger: New England residents swap tales about encounters with the author
(Read article summary)
A Vermont teacher heard many stories about Salinger, from a student who often watched "Jeopardy!" with him to the author's love of church suppers.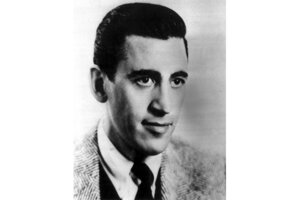 Little, Brown & Co./AP
Author J.D. Salinger hid away for decades in plain sight in Cornish, N.H., a feeding town for the high school where I taught English in Vermont for 25 years.

As such, I had access to all kinds of folklore and harmless gossip about the reclusive writer for years.

One of my students was his next-door neighbor and used to go over to his house every night and watch "Jeopardy!" with him, a game show which apparently Saliinger "loved."
---