African mysteries offer insight into the continent's violence
(Read article summary)
Novels such as 'Hour of the Red God' by Richard Crompton shed light on volatile conditions in Africa.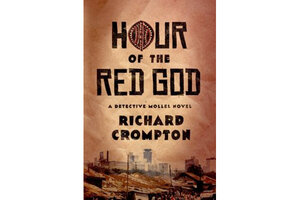 Thanks to a series of bestsellers, a gentle and cheerful Botswana private eye named Precious Ramotswe is the most famous fictional detective in all of Africa. But the continent's healthy supply of detective novels offer more than coziness: A new generation of mystery novelists offers insight into the violence that so many Africans must endure.
In South Africa, for instance, where the rich hide behind gates and security guards. And in Kenya, a country haunted by the US Embassy terrorist attacks of 1998 and last weekend's horrific shopping mall massacre.
These troubled yet remarkable countries share the spotlight with detectives (also troubled yet remarkable) in a pair of excellent new mysteries. These novels are worth a read, and not only for their top-notch storytelling. They also serve as intimate cultural guides for armchair travelers who want to understand the world around them.
One such novel is "Hour of the Red God" by Richard Crompton, which focuses on Detective Mollel of the Nairobi police. In Crompton's book, everybody knows the Nairobi police detective named Mollel is an outsider. It's as obvious as the nose on his face. Or rather his ears, with their dangling earlobes stretched toward his jawline, a sign of masculinity in his East Africa homeland but a humiliating mark of shame in the big city.
He's an outsider for other reasons – his honesty, his widowhood (a tragic legacy of the 1998 embassy bombing), and his remoteness.
---